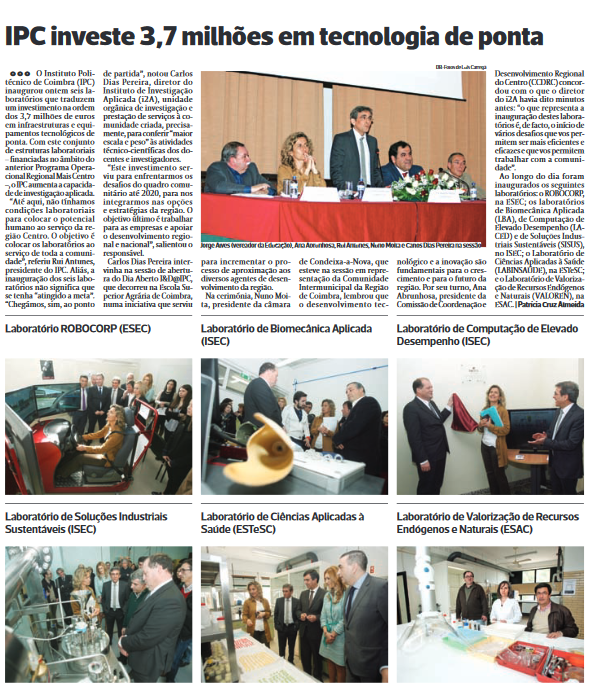 News
Polytechnic Institute of Coimbra invests 3.7 million Euros in simulators and other technologies
Polytechnic Institute of Coimbra (IPC) has opened six new laboratories which involves an investment of 3.7 million Euros in infrastructure and technological equipment.
This investment has been financed by the "Operational Program Mais Centro" and allows expand the capacity of applied research in the CPI.
"Until now, we had no conditions in our laboratories to exploit our human potential at the service of the Centre region. The aim is to use laboratories at the service of the community." These are the words of Rui Antunes, president of IPC
"The opening of the six laboratories not mean that we have reached the goal, it is a starting point. This investment has helped meet the challenges of the Community framework until 2020 and to integrate into the options and regional strategies . The ultimate goal is to work for companies and support regional and national development, "remarked Carlos Dias Pereira, Director of the Institute  Applied research (Iza), organic research unit and service to the community, created precisely to provide greater scale and weight to technical and scientific researchers teaching activities.
The Portuguese company Ingeniarius,  with Spanish Companies Drivesim and Arisoft have been equipped with specialized driving simulators in the laboratory research called ROBOCORP, one of the six laboratories created under the umbrella of this project.
One of the driving simulators incorporated into the laboratory, is the Drivesim DRIVE SEAT 800 ST model, it has three screens to display the simulation plus a fourth screen to represent the instrument panel and dashboard of the vehicle.